Have you been elected valedictorian? Are you the one who will be called up on stage to speak in front of all your classmates, family, friends, and teachers at the graduation ceremony? Your audience expects a memorable speech that is both inspiring and funny. Perhaps your speech will will end up on Youtube where it will be preserved for years to come. The pressure is enormous. But don't worry! Just follow these five tips and you will write a hilarious speech in no time.
Tip 1: Pick a Funny Opener
Alfred Hitchcock said about movies: "Start with an earthquake, then slowly increase the level of suspense."The same is true for graduation speeches. Your first sentence should shake your listeners. Then you can go on and dazzle 'em.
The best way to draw in the attention of your audience right from the start is humor. By the way, if you are graduating from high school this year, – even college students might not know! – you might not know who be familiar with Hitchcock, he was considered one of the best movie makers of all times. But let's look at some funny openers.
Talk show host Conan O'Brien began in his graduation speech at the University of Dartmouth in 2011 like this: "Graduates, parents, relatives, teachers and old people that just come to these things: Good morning and congratulations…"
You could easily change this opener to fit your speech situation. For example, you could also welcome the bored siblings, tourists, who lost their bearings or people from the street who were hoping for free drinks.
The humor in the valedictorian speeches often plays with the fact that after passing their exams, student can now afford to speak up much more freely. Even small taunts to the teachers are allowed, as long as they don't go too far. Like this example:
"At the beginning of my speech, I want to thank the teachers. They do not always have an easy time with their students. They are often incredibly loud, they cannot focus well and for long stretches of time they have absolutely no clue what the class is all about. That's right, dear teachers, I'm talking about you. But the fact that all students who are sitting in front of me today have graduated from high school shows that despite these deficits, you have done well. I think, that deserves a big round of applause."
If the speaker was not his teacher's favorite student, he or she could start their speech like this: "When Principal Rogers was considering which one of his students would be a good candidate to deliver a speech at our graduation ceremony, my name was at the top of his list. The title of this list? Worst Case Scenario."
Hundreds of funny and inspiring ideas by America's top graduation speeches can be found here.

Tip 2: Look Back at Your Time in High School
At graduation ceremonies there are usually several speakers, a teacher, a parent or a guest speaker. But only one speaker knows everything about what went on during the graduates' high school years. Only one speaker has been there, at parties, behind the school building or in the backseats of parents' cars. And that speaker is you.
Use your knowledge to make some jokes. You don't have to give away secrets. Just let your audience know that you have them. How this can be done, was shown by J.K. Rowling in her speech at Harvard (even though she didn't speak as a graduate, but as a world famous writer):
"The friends with whom I sat on graduation day have been my friends for life. At our graduation we were bound by enormous affection, by our shared experience of a time that could never come again, and, of course, by the knowledge that we held certain photographic evidence that would be exceptionally valuable if any of us ran for Prime Minister."
Or you can do it like this. "I had planned to talk extensively about the most embarrassing anecdotes that happened in recent years. I even wanted to present some funny pictures and videos. But since the offers for hush money have been generously increased by several of my classmates, I have decided to delete those passages from my speech."
Tip 3: Give Some Tongue-in-Cheek Advice
Not only teachers and parents can make suggestions for the future of the graduates. Valedictorians can, too. But make sure you spice up your advice with a pinch of humor.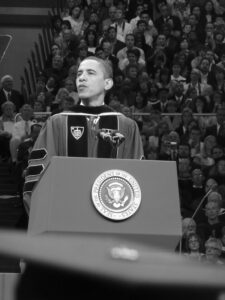 You can find inspiration in the speech delivered by talk show host Ellen DeGeneres in 2009 at Tulane University in New Orleans. "Never follow anyone else's path, unless you're in the woods and you're lost and you see a path and by all means you should follow that. Don't give advice, it will come back and bite you in the ass. Don't take anyone's advice. So my advice to you is to be true to yourself and everything will be fine."
Your audience should always feel that you don't take yourself too seriously, for example like Tim Minchin did in his speech at the University of Western Australia in 2013: "You may find some of my tips inspiring, some you may find them boring. Surely, you will have forgotten all of them next week."
Lots of witty phrases for graduation speeches can be found here.
Tip 4: Get to the Point and Come to the End
Speeches are like love affairs: It's not difficult to start one. But only few people manage to end them gracefully. A pleasant exception was Jimmy Kimmel's speech in Las Vegas in 2013: "With your degree you have not only proven that you are smart people. You have also shown something even more important. You have proven that you can finish something. That being said, I think this is a great opportunity to show that I can finish something as well and finish this speech."
Denzel Washington concluded with his graduation speech at the University of Pennsylvania 2011 like this: "When you leave the friendly confines of West Philly: Never be discouraged. Never hold back. Give everything you've got. And when you fall throughout life—and maybe even tonight after a few too many glasses of champagne—fall forward. [Learn from your experiences] Congratulations, God bless you."
Hundreds of funny and inspiring ideas by America's top graduation speeches can be found here.
Tip 5: Don't Be Scared
A rousing graduation speech needs a hilarious opener, a humorously-packaged look back, some words of wisdom and a crisp conclusion. However, there is something even more important than all this: your enthusiasm. Your audience must feel that you are excited about your speech.
Unfortunately, this is something many speakers struggle with. The reason for this is usually stage fright. Some people are simply too scared of public speaking to ignite the spark in their audience.
However, there is a simple cure for your anxiety. Don't take yourself too seriously – and let your listeners know that. Harry Potter author J. K. Rowling did a pretty good job at this in her graduation speech in Harvard in 2011: "The first thing I would like to say is 'thank you.' Not only has Harvard given me an extraordinary honor, but the weeks of fear and nausea I have endured at the thought of giving this commencement address have made me lose weight."
Or you can say this:"Opera singer Enrico Caruso badly suffered from stage fright and is said to have thrown up many times shortly before his performances. My anxiety is usually not that bad, but for the case of an emergency, I would like to ask the people in the frond row to move their chairs backwards a little bit."
More humorous phrases that will relax even the most terrified of speakers can be found here. Take these five tips to heart and you will give a graduation speech that will sweep your audience of their feet. Good luck to you!